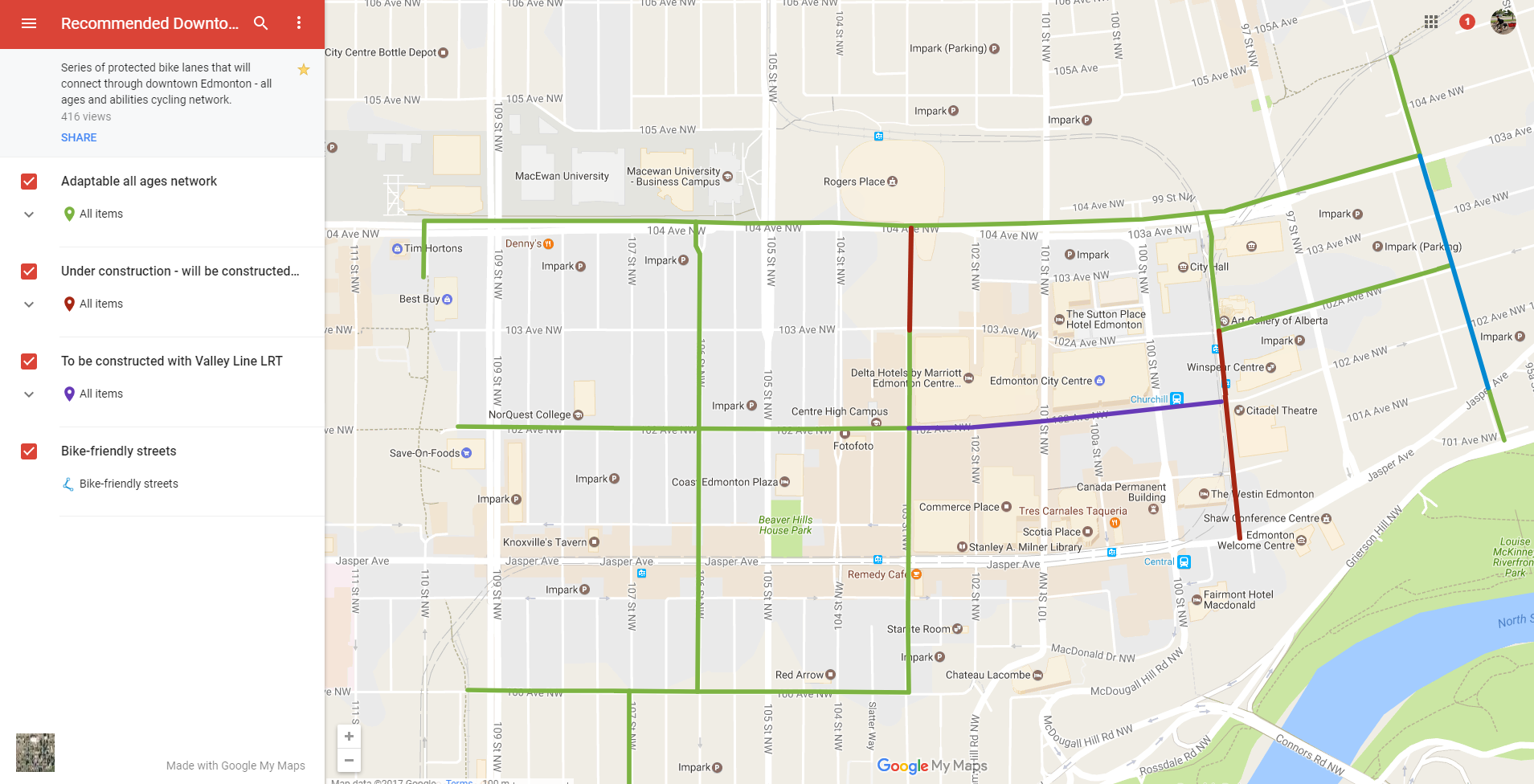 If you head downtown, you will see the downtown bike network of physically separated bike lanes under construction, with a completion target of June/July. These lanes use a combination of large planters, concrete barriers and bollards to create a physical separation between bicycles and other traffic. New signal controls are being installed at intersections as well, including bike traffic lights, and other treatments will also be used to improve safety at intersections.
The future is coming! First #yeg downtown protected #cycling network street is shaping up nicely! So wide too, more than 3 meters! #yegbike pic.twitter.com/63oaiDB38e

— Darren Proulx (@dnproulx) April 22, 2017
Bike path installation on my route to work! #yegbike #yegUrbanCycling pic.twitter.com/7Gqj5BdhKF

— Kim (@saysyrahsirah) April 24, 2017
The map of the planned grid looks like this:
103 St north of 103 Ave won't be complete this year because of ongoing construction related to the Ice District scheduled to continue until 2019.
102 Ave east of 103 St also won't be complete this year, due to Valley Line LRT construction targeted for 2020.
99 St south of 102A Ave will also be completed later.
A more detailed map showing the roadway placement of the bike lanes should be released in the next few weeks; if you have any specific concerns about how the bike lanes will work, please contact us so we can share your feedback with the City of Edmonton. Most of the feedback and subsequent changes are planned to happen after the bike network has been constructed and opened for use, following Calgary's model, which allows for people to truly use and interact with the network in order to get the most useful feedback. Calgary made over 100 adjustments in the first few months of its bike network.