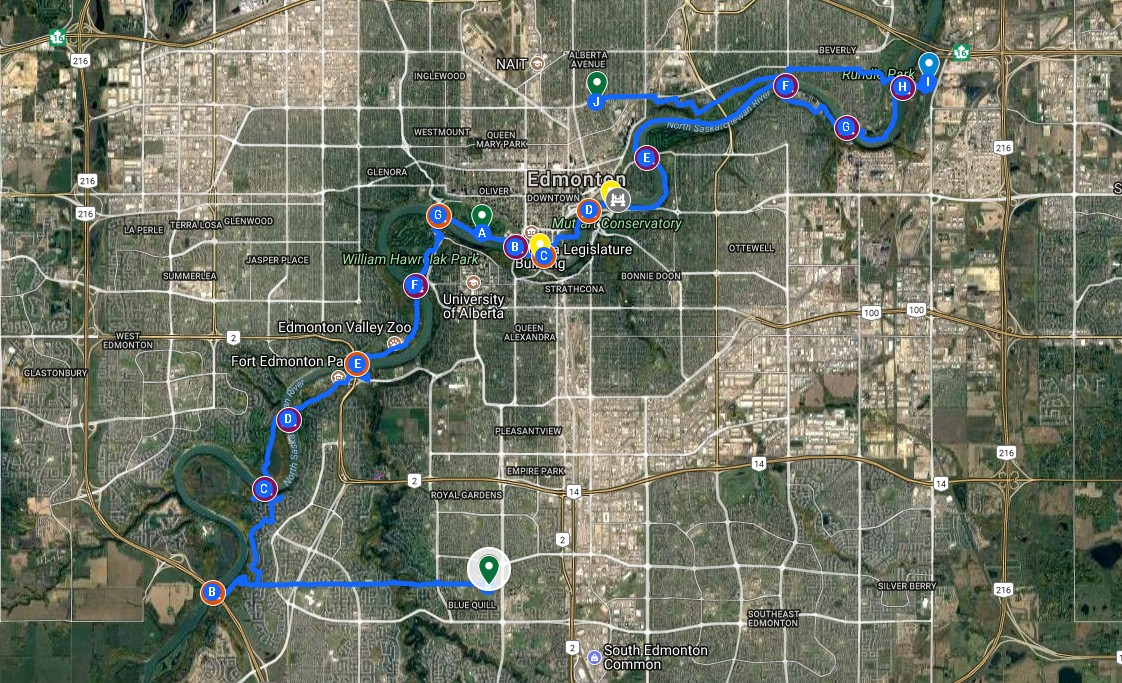 Celebrate Edmonton's river valley by riding 13 of its bridges! Ride begins at 10:30am from 112 St and Saddleback Road. Ride your bike, take the train to Century Park, or park on the street in the area.
Ride to Victoria Park (24 km) and have a picnic break (bring your own lunch). You can head home from there, or continue on the ride. You can also join the ride here at 1pm.
We will depart from Victoria Park at about 1:15pm, and make our way to the Strathcona Science Park before returning to BikeWorks North (9305 111 Ave) for about 3:30pm. (29km from Victoria Park, 53 km total.)
The ride is free, but you must:
register and sign waivers
bring your own snacks and/or lunch
bring water, ideally enough for the entire ride (refill opportunities are limited)
bring your own bike in good working order

your chain should not fall off while riding (if it does, take your bike in for servicing: chains should never fall off)
inflate your tires to the recommend pressure (check the sidewalls of your tires)
lubricate your chain
ensure your shifting works, as there will be several hill climbs

wear a helmet if you are under 18
have the ability to ride the distance at a leisurely pace (~20 km/hr)
The 24-hour weather forecast is sunny and clear, with a high of 15°C and potential wind of 20 km/h (gusts up to 40 km/h). Please dress appropriately with layers for cool weather, and be prepared if the forecast includes a chance of precipitation.
All participants are required to register and sign the following waiver.
A live map will be shared with registrants so they can track the progress of the ride in real-time.